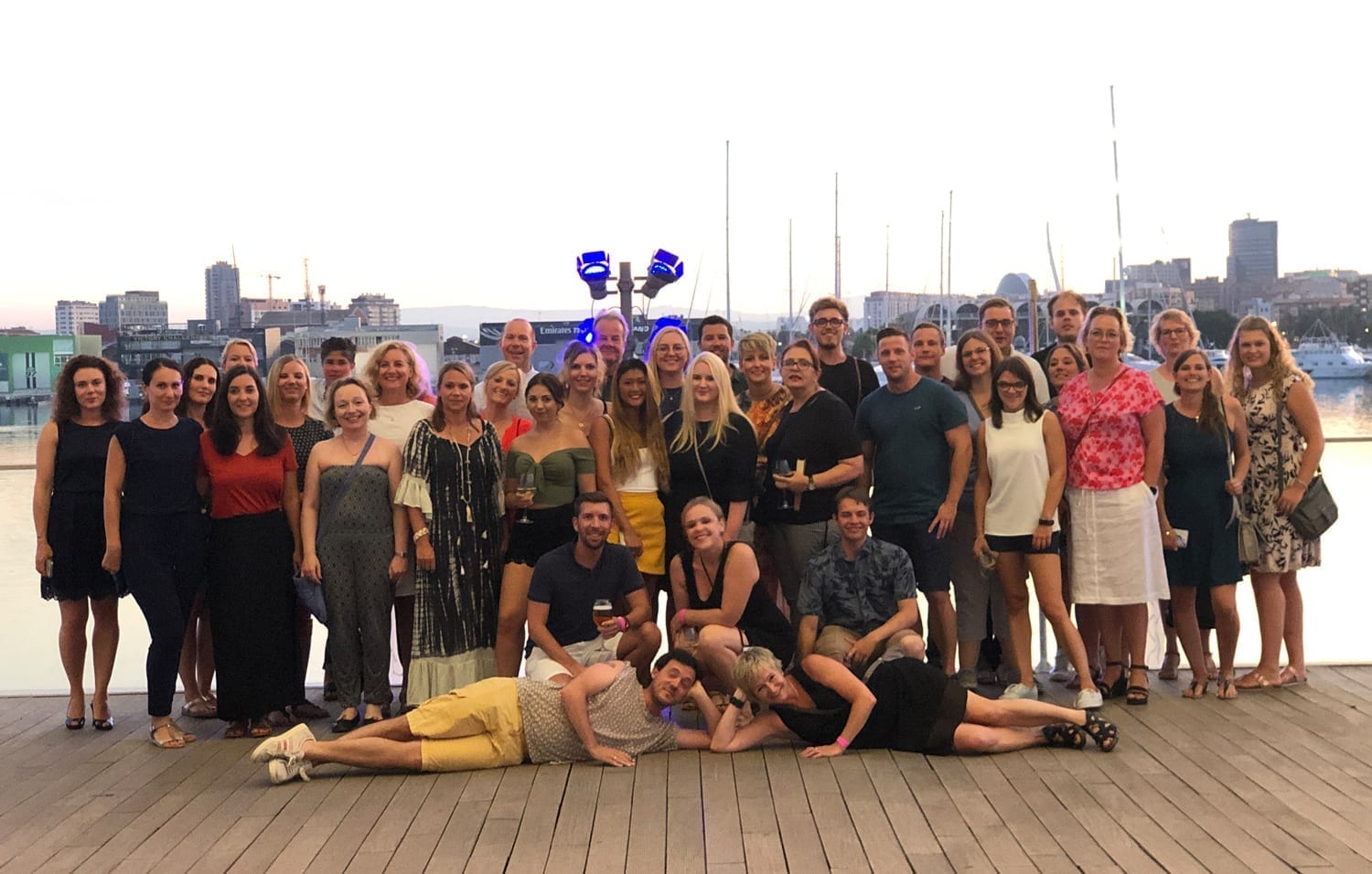 face to face in the constant rush of happiness – unforgettable team event in València
20 years face to face and the goals achieved last year – a good reason to say "Thank you" to the team. That's what the two organizers Marco Dröge, CEO of face to face, and Sahra Mohammadi, management of face to face event GmbH, thought and planned a 3-day team event in València with experience, community and lots of fun in the foreground.
"The multifaceted and interesting city with Mediterranean flair is still considered an insider tip by many. Of course, discovering new and exciting destinations always offers additional added value, which we can put to good use in our everyday agency life," says Marco Dröge, CEO of face to face.
The result is more than successful:  Kai Lammerich from face to face communication's project management aptly sums up the team's feedback: I've been looking forward to València since the announcement in February, because I've never been there before and have only always heard how beautiful it should be. My expectations were exceeded by far! face to face really spared no expense or effort to make this a unique weekend experience! From the luxurious 5-star hotel to exclusive locations, excellent food and a varied program, one was caught in a constant rush of happiness. It is nice to work in a company where every employee is valued and good teamwork is rewarded". 
Already the first impression after the arrival on Friday was overwhelming.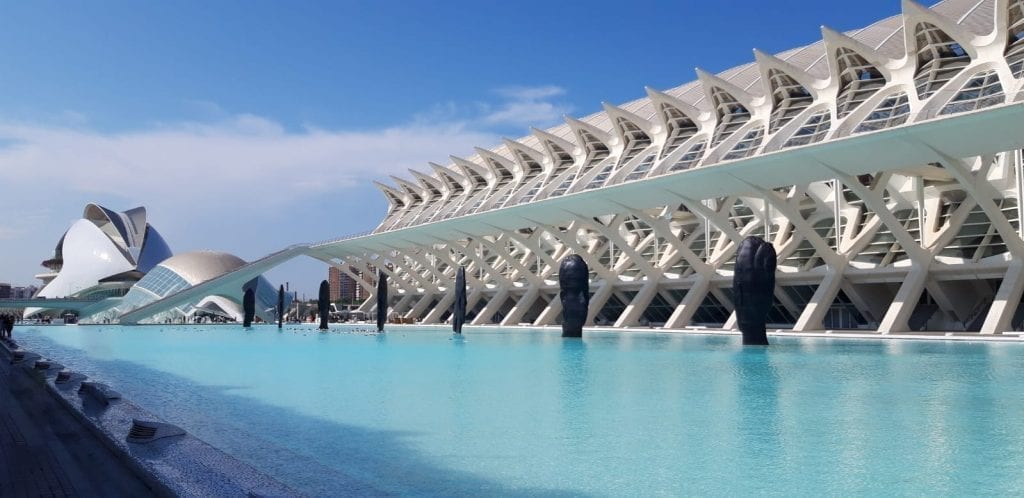 The new cultural highlight, the futuristic Ciudad de las Artes y las Ciencias (City of Arts and Sciences) by star architect Santiago Calatrava with opera palace, oceanic museum and IMAX cinema, is everything but ordinary. Thanks to the owner Frédéric Scheel from the agency event-one and the friendly tour guide Jenny, we learned a lot about the history of València.
We got a quick orientation in the city at the big river with e-scooters, with which we drove quick and easy through the seven kilometre long park and leisure complex, which was created by draining the diverted river Turia.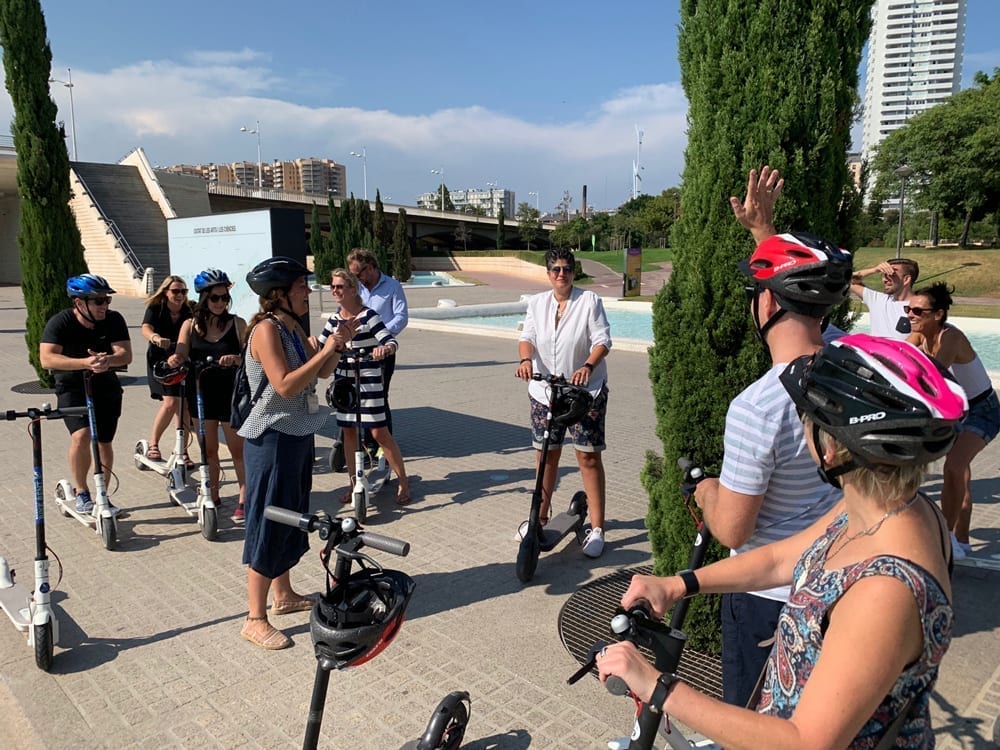 The Hotel Hospes Palau de la mar selected by Marco Dröge, the managing director, also falls into the unique category: a 19th century mansion with tasteful rooms and an inner courtyard that reflects the Mediterranean charm of the city and is used as an attractive meeting point.
Delicacies were served in the typical way of the country: With wonderful evening temperatures of 22 degrees we were allowed to enjoy tapas in tasteful ambience of different bars in the beautiful old town.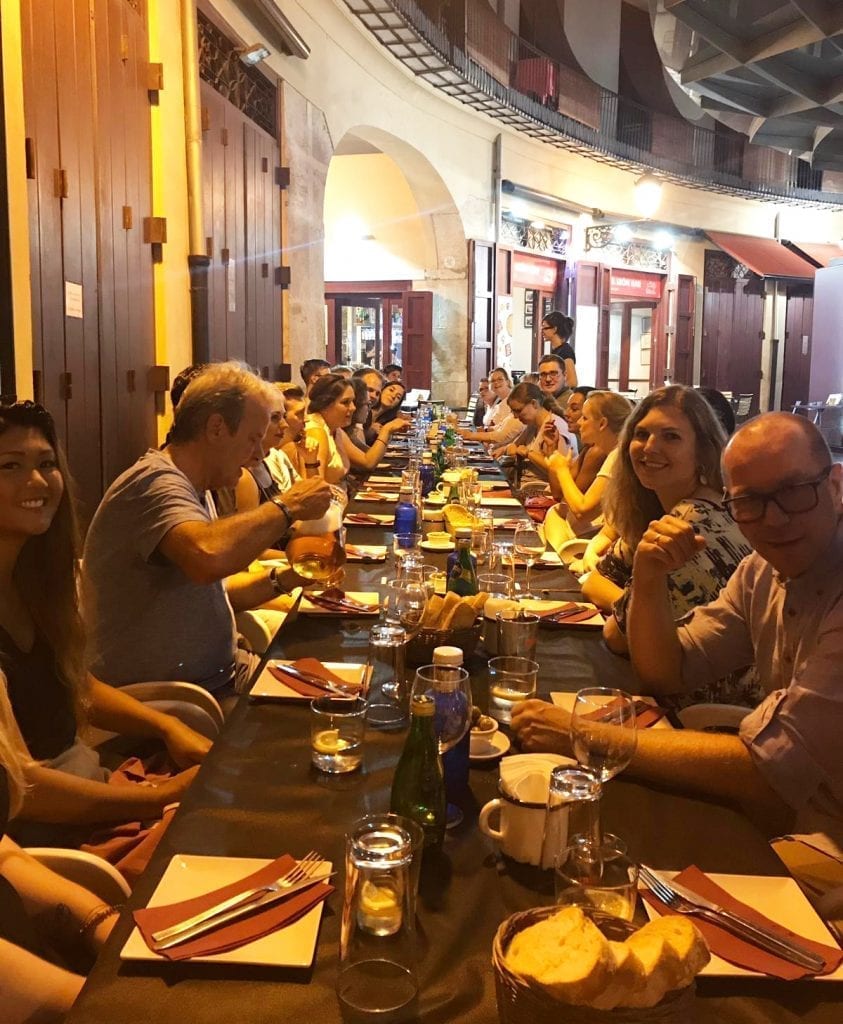 "The motto of the second day was "and that's why we decided to offer a beach day", says Marco Dröge: "Sun loungers, umbrellas and hats were ready, a barkeeper who was not only popular with the ladies served ice-cold mixed drinks and the warm Mediterranean invited us to swim or water sports.
Sahra Mohammadi, management of face to face event: "It is something very special that a company makes something like this possible. I am proud to be a part of such a cool team. We can work well together but we can also celebrate well together".
That's true. Because not only the employees but also the management, who danced on Electropop in the hip Beach Club La Marina until the morning hours, proved their stamina.
"Since it is not possible to get a taxi in València, on the way home from the party to the hotel, you can train off the kilos that you have previously had on your hips with excellent food. In fact, the following footpath of 4.4 km to the hotel was the worst of the weekend, but it was also incredibly funny", say Katharina Diny and Jessica Rodert from the guest management of face to face event.
Before we were served typical paella at lunch in an idyllic beach restaurant, we went to the Albufera National Park, where a boat trip through the rice fields offered atmospheric views and insights into the ecological system. The nutrient-rich water offers ideal conditions for fishermen and rice farmers.
After a siesta on the beach we went back to the airport and said goodbye to a wonderful city.
"Whether for shopping with the e-Scooter through the old town, sunbathing on the beach, hot party nights at the harbour or paella culture and nature experiences in the Albufera, València is as versatile and exciting as the employees of face to face! Katharina Diny, guest management, face to face event.
Katharina Nguyen from face to face communication's project management aptly sums up: "An unforgettable holiday in one of the most beautiful port cities in the world".
 "The whole thing motivates us to achieve our goals for this year as well," concludes Bennie Weichenthal, Project Manager at face to face event.
Special, extraordinary, great. This is how event management works. The management once again exemplified this to us and took us with them on their journey. With the same ambition and claim, we want to return to our everyday work and meet our customers with competence and commitment.
We thank our managing directors and organizers.
Vanessa Brinktrine, face to face event, adds for our Spanish friends:
"Fueron tres días maravillosos e intensos que voy a recordar por mucho tiempo aún. Sobre todo se destacó la interacción humana y calurosa entre los colegas. Un viaje así ayuda a unir a todos de una manera nueva e interesante lo que motiva a relacionarse mejor. Un destaque para mí fue el día que pasamos juntos en la playa, pudiendo disfrutar de las bebidas ricas y actividades físicas divertidas. También la fiesta después me trajo recuerdos muy graciosos. Pero quién se hubiera imaginado que sería tan difícil de encontrar un taxi en València esa noche? Esta experiencia me hizo sentir viva y a la misma vez yo estaba super a gusto con mi ambiente y las personas a mi alrededor. Chapó a todos que colaboraron en la organización. Gracias!"